Disclosure: I got this product as part of an advertorial.
Pine Bros Softish Throat Drops were created in 1870 by Herman Pine. Herman Pine and his brothers would sell the first batch of these drops called "Pine Brothers Glycerine tablets" in Philadelphia. Early on Herman Pine learned that glycerin had natural soothing qualities that could help soothe throats. The recipe for Pine Bros softish throat drops have also managed to remain the same for over 140 years. This company has been sold a number of times. It did see some minor setbacks when some cost cut changes were made to the original recipe, and the product was made overseas. Pine Bros softish throat drops is now owned by Victoria Knight-McDowell. She was the former creator and owner of Airborne. She has a new company 3 Sisters Home Products, and Pine Bros is apart of it now. Under her expertise, Pine Bros has went back to the original recipe that made it a major hit in the 1970s. There was also new packaging to keep the product from going stale, and most importantly its made in America again.
You can find Pine Bros softish sore throat Drops available in three flavors natural honey, wild cherry, and licorice.These drops are also gluten free which is a plus since I'm trying to go gluten free. They are also only 5 calories. Pine Bros softish sore throat drops come in a puck size which includes 26 drops, and a value size that includes 32 drops. I like the puck size because I can refill it with the drops from the value size. So this product is easy for me to take on the go. I don't just use this product for a sore throat. I also use it when my mouth is dry, and it works great. I really think natural honey is my favorite flavor because I think it really does a nice job of coating the throat. Plus, it does have the best flavor, so if you want to purchase it for your kids they will like it. I also like that this product is a natural product, and doesn't contain any artificial flavors. I'm definitely looking forward to the Lemon-Citrus flavor being released in 2015. I think this flavor will be a hit because who doesn't like lemon. So overall, I think this product is great, and I enjoyed trying it.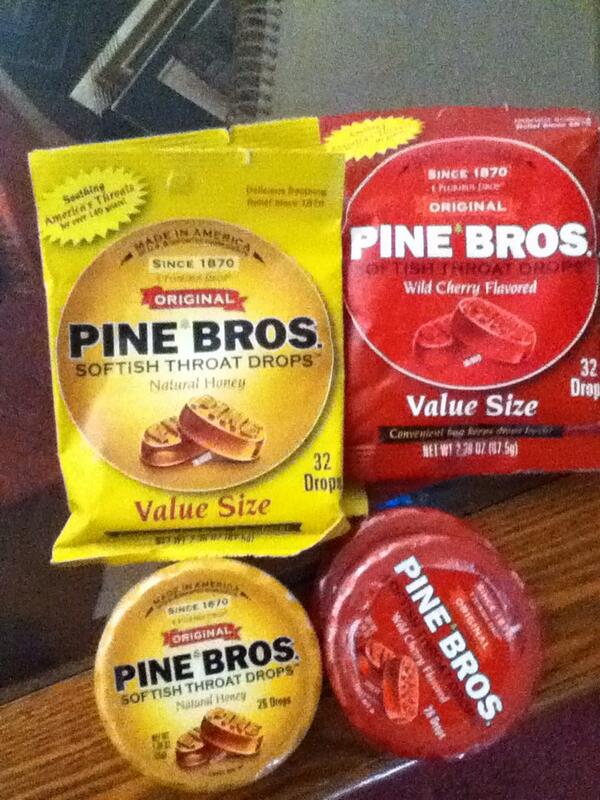 If you would like to try
Pine Bros Softish Sore Throat Drops
yourself
please visit
PineBrothers website
.
Please be sure to connect with Pine Brothers on social media:
I received one or more of the products mentioned above for free using
Tomoson.com
. Regardless, I only recommend products or services I use personally and believe will be good for my readers.